The power trim and tilt unit (also called the PTT and PT&T) is an important mechanism that allows the motor to angle up or down. The correct trim angle helps the boat achieve the proper attitude (i.e., the relationship between the bow and the stern) and is responsible for the smoothness of the ride. It also effects speed and allows the boat to reach maximum fuel efficiency. The tilt mechanism is as equally important as the trim; it lifts the motor out of the water and allows the motor to be stored on the tilt latch.
While often overlooked, you should keep an eye on the tilt and trim unit during routine maintenance. In some cases, you may need to remove the trim and tilt for a closer inspection or possible repairs. Always follow the procedure in the motor's Service Manual to property remove trim and tilt.
Removing the PTT on XTO Offshore Models
The trim and tilt on the XTO Offshore is designed to be removed without unbolting the motor from the transom. However, the trim and tilt is mounted under the motor and can accumulate marine growth like barnacles and slime while in the water. If too much growth has accumulated on the trim and tilt unit, it can be difficult to remove.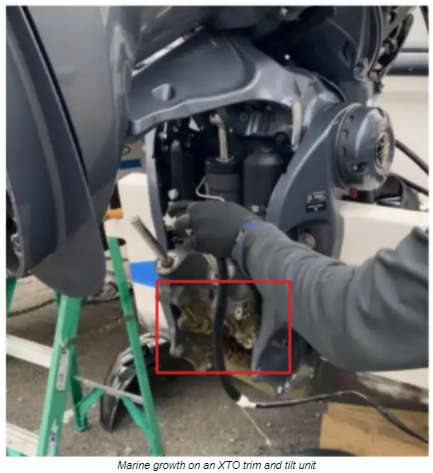 If needed, try the following steps to remove a trim and tilt unit on an XTO Offshore:
If the trim is operating, place the motor on the tilt latch and then remove the lower bolts from the support brackets.
Keep the unit powered up and the upper tilt pin in place. If you operate the DOWN trim switch on the lower pan, the unit will lift itself from the brackets with ease.
Once the tilt and trim are up and clear from the brackets, disconnect the battery and remove the trim sensor, roll pin, upper tilt pin, and wiring from the Power Management Unit (PMU) to lift the complete trim and tilt unit out. NOTE: The PMU is mounted on top of the motor and manages all power for the motor.
Once the repairs are complete, clean any growth and debris from the motor before installing the trim and tilt unit back under the motor per the instructions in the Service Manual. Always test and verify the work you have just performed. Be sure to complete any recommended maintenance, such as applying grease to the tips of trim pistons and zerk fittings.