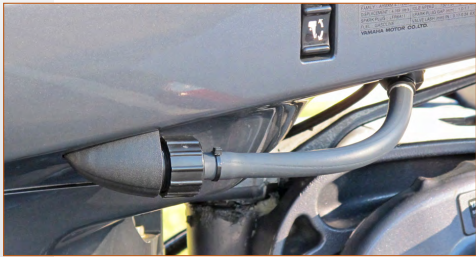 How do I flush my motor? This is so common I can answer
it in my sleep. We often get asked "how to" and "how often" to flush your engine.
Yamaha has made this procedure about as easy as it can be by including
a flushing attachment on the motor. You don't even need to run the motor. For best results, this procedure should be done right after operating the motor, while it is still warm, but anytime is better than never. Ideally the motor should be flushed after every use in salt or brackish water, water that that has mineral content, or when used in muddy/silty water.
NOTICE: Do not perform this procedure while the engine is running. The water pump may be damaged and severe damage from the overheating can result.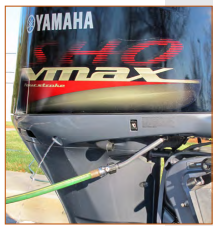 1. Disconnect the fresh water flush adapter hose from the fitting on the bottom cowl.
2. Connect the fresh water flush adapter hose to the garden hose.
3. With the engine off, turn on the water supply and let the water flush through the cooling passages for about 15 minutes. Some model motors will not have water coming out of the tell-tale hole.
4. Turn off the water supply and disconnect the fresh water flush adapter hose from the garden hose.
5. Reattach the fresh water flush adapter hose to the fitting on the bottom cowl and tighten it securely.
NOTICE: If the fresh water flush adapter hose is not properly reconnected to the fitting on the lower cowling, cooling water will leak out of the flushing hose and the engine can overheat causing severe damage.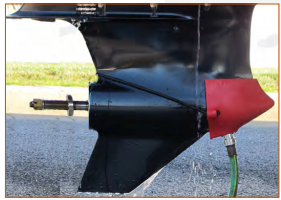 If you really want to run the engine while flushing, you must use an outboard engine flush attachment on the lower unit. You should only run the engine in neutral and at idle speed. For personal safety, the propeller should be removed as described in the Owner's Manual to prevent contact if accidently shifted into gear. Also, you should never leave a motor unattended while it is running.
Tip: If the boat remains in the water, tilt the outboard motor up until it is
completely out of the water. This will allow the freshwater to flush out the water and exhaust passages in the midsection and lower unit that would otherwise remain below the water level.