4 Things to know about the new F425XTO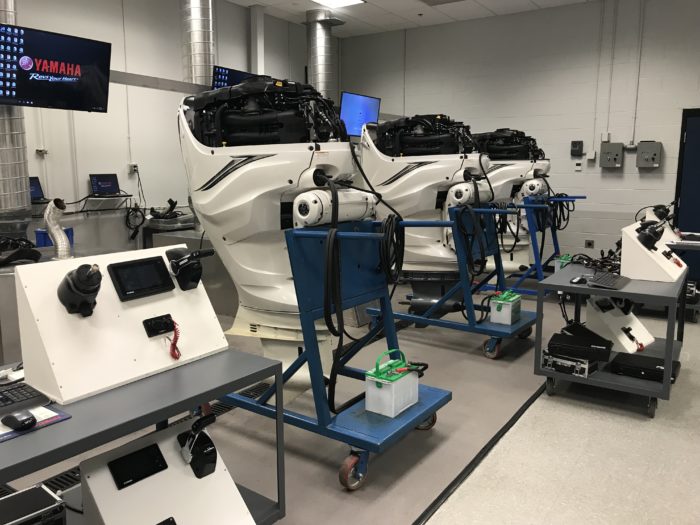 After spending a week at Yamaha for service training on Yamaha's newest state of the art outboard, the 425hp XTO V8 5.6ltr, I noticed that there seemed to be a specific customer Yamaha was appealing too with this new power plant.  According to Yamaha, the boating trend is larger-heavier hulls that need a large displacement engine to push them properly. Was this engine designed with the go-fast boater in mind? I don't believe so.  I'm not saying it's not capable of going fast, it just doesn't seem the be Yamaha's biggest concern.  On the other and, the XF425 is definitely built with durability and reliability as the priority.
I plan to go into further detail in future posts, but here are some features that stuck out to me initially:
Fuel System – EFI VS. DFI  The worlds first gasoline powered 4-stroke, direct fuel injected

(DFI)

outboard engine. Common fuel injection systems (EFI) for 4-stroke outboards injects fuel into the intake valve area, before the cylinder.  DFI engines inject fuel directly into the combustion chamber, which offers a more precise fuel timing and delivery.  This increases power and increases fuel economy.  DFI engines are common place in the automotive market place.  One of the major differences between these fuel injection systems is DFIs have a much higher fuel pressure than the standard EFIs.  Yamaha achieves this via electric and mechanically driven fuel pumps.  The fuel system sounds complex, but training proved, that it really isn't.
Steer By Wire (SBW)  The steering system for the 425 XTO has an electronic helm, driver signals are sent electrically back to the Steering Control Unit (SCU) or Actuator.  Steering parameters can be set to tighten or loosen steering resistance felt at the wheel and the turns (hard-over port to hard-over starboard) based on rpms/speed.  To say the steering system is robust is an understatement.  The actuator is designed to adjust manually if a failure occurs by removing a side cover on the SCU, loosing up a nut and then turning a lever-type handle by hand.  The

engine comes with a tool for this, but its just a 19MM wrench. 

Its not something that will likely happen, but Yamaha engineered a way to manually move the engine.
Gearcase.  It is huge and it is heavy.  I can't think of any outboard lower unit that comes close to it in size. Everything about it is just big. Without a prop it comes in at 125lbs. Yamaha has a special tool that is designed to hang the lower unit in the air at an angle or horizontal off a fork lift or overhead crane.  This tool comes in handy from new motor lower unit installation to water pump maintenance.  The new FX425 carries a Yamaha exclusive feature allowing you to change the lower unit oil without hauling the boat out.  It has a fill and vent hose under the cowling, where the oil is sucked out with a conventional oil sucker, and refilled with a standard lube pump. It also has conventional fill and vent screw holes in case you want to change the gear lube out of the water, as is normally done.  Since the gear lube and engine oil can be changed in the water or on a lift, this saves time and money not having to haul the boat out for standard 100 hour maintenance intervals.
6 Piece Cowling.  The engine is surprisingly easy to work on.  It has 1 upper cowling, very large but very light.  This cowling is removed by opening the typical 3 levers and lifting off.  Oil is checked and gear lube is changed through this.  The rest of the cowlings are removed with a 5mm allen wrench and the majority of the bolts that hold them on are all "captured," meaning they won't fall out (or into the water). With the cowlings off, accessibility to the engine is outstanding.  As a 20-year, Yamaha Master technician these features are very convenient!
I plan to go over more of the mechanical aspects of the engine in future posts, so stay tuned!
Specifications
| | |
| --- | --- |
| Engine Type | V8 / DOHC / 32 valves / 4 Valves per Cylinder |
| Displacement | 5.6L |
| Bore x Stroke | 96 x 96 mm (3.78 x 3.78 in) |
| Prop Shaft Horsepower | 425hp at 5500 RPM |
| Full Throttle RPM Range | 5000 – 6000 RPM |
| Alternator Output at W.O.T. | 90 Amp Gross, Max |
| Compression Ratio | 12.2:1 |
| Fuel Induction System | Direct Injection / Up to 2900 PSI |
| Weight* | 432 kg (952 lbs) / 443 kg (977 lbs) / 453 kg (999 lbs) |
| Recommended Fuel | Octane 89 |
| Recommended Engine Oil | Yamalube® 4M (See owner's manual) |
| Recommended Fuel Filtration | Yamaha 10-Micron Fuel / Water Separating Filter (external) |
| C.A.R.B. Rating | 3-Star |
| Exhaust | Through Propeller (Except in Reverse Under 2500 RPM) |
| Intake | 32 |
| Ignition | TCI Microcomputer |
| Spark Plug | ILMAR7E-9 / Iridium |
| Alternator Output | 90 Amps Gross, Max |
| Starting System | Electric w/ PTT |
| Lubrication | Wet Sump |
| Engine Oil Capacity | 7.8L / 8.2 Quarts | 7.5L / 7.9 Quarts |
| Recommended Cooling | Thermostatic Control |
| Ethanol Blend Limit | 10% Maximum |
| Gear Ratio | (25/14) 1.79 |
| Gear Shift | Forward, Neutral, Reverse |
| Shaft Length | 25″ – 30″ – 35″ |
| Degree of Tilt | -4° through +73° |
| Degree of Trim | -4° through +16° |
| Dry Weight | 25″ shaft / 432 kg (952 lbs) ; 30″ shaft / 443 kg (977 lbs; 35″ shaft / 453 kg (999 lbs) |
| Mounting Centers | 28.5″ |
| Steering | Integrated, Electric Actuation |
| Steering Angle (maximum) | 31° from center, either direction |
| Warranty | Limited 5-Year Pleasure, 3-Year Government, 1-Year Commercial |